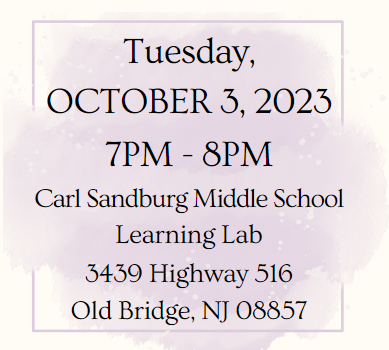 WORKSHOP: EXECUTIVE FUNCTIONING
Tuesday, October 3, 2023 - 7:00pm - 8:00pm

Carl Sandburg Middle School
Learning Lab
3439 Highway 516
Old Bridge, NJ 08857
The district administrator Executive Functions Committee will be presenting on how executive functioning impacts student growth and development.

* Learning and the Brain
* Impact on Academics
* Social and Behavioral Expectations
* Strategies for Home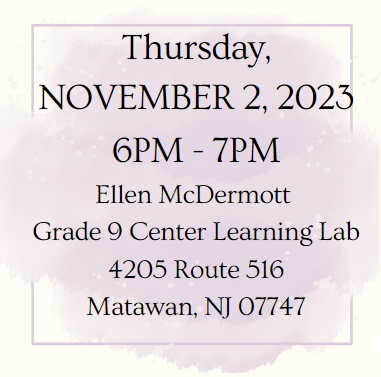 WORKSHOP: COLLEGE PLANNING
Thursday, November 2, 2023 - 6:00pm - 7:00pm

Ellen McDermott Grade 9 Center
Learning Lab
4205 Route 516
Matawan, NJ 07747
This workshop aims to navigate families through the college admissions process. We will discuss how your child can plan for the application process in regard to academic preparation, extracurricular activities and standardized testing. We will review what factors to consider when building your child's college list.
Laura Laubach is in her sixteenth year as a school counselor at Old Bridge High School. The last six years she has worked with our students in the top 10% of their grade level. She has her College Counseling certification from UCLA.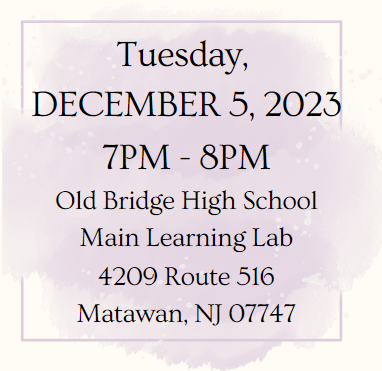 WORKSHOP: POSITIVE COMMUNICATION/CONVERSATION
Tuesday, December 5, 2023 - 7:00pm - 8:00pm

Old Bridge High School
Learning Lab
4209 Route 516
Matawan, NJ 07747
In this workshop, attendees will discuss the importance of positive communication and share methods that will foster positive connections. Attendees will leave with practical strategies to promote positive dialogue in the home. If you are looking for ways to enhance positive interactions with your children, please join us.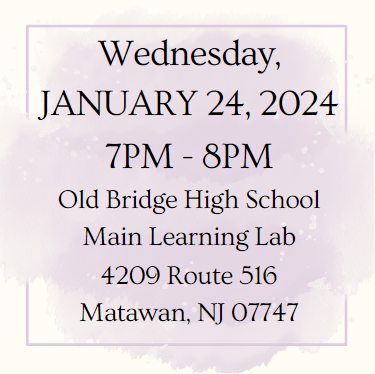 WORKSHOP: IT IS TOUGH TO BE A KID!
Wednesday, January 24, 2024 - 7:00pm - 8:00pm

Old Bridge High School
Learning Lab
4209 Route 516
Matawan, NJ 07747
Across the United States our kids are battling everyday stresses of life. This workshop is a deep dive into the challenges our kids are facing with mental health issues, anxiety, vaping, pills, marijuana laws, etc. The workshop will highlight current trends along with prescription drug abuse, cyberbullying, the One Pill initiative, anxiety, separation stress, and other current topics. Participants will learn the current data trends and problems that are surfacing in the community.
Presented by: Professor Doughlas S Collier, M.A., DEA (Ret), Monmouth University, Department of Criminal Justice